Dec
29


Paragon Hard Disk Manager 17 Suite v17.4.3-P2P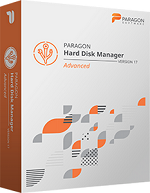 Description: Hard Disk Manager™ Advanced – Data safety and disk health for tech-savvy users. Data security requires taking care of several aspects. Paragon Hard Disk Manager consolidates 25 years of hands-on expertise in system software to keep your data healthy and safe.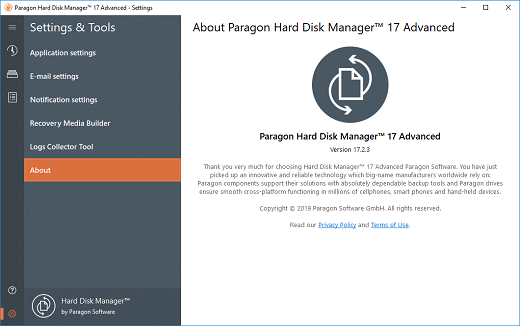 Data safety and disk health for tech-savvy users
Organize your disks, ensure capacity and performance of storage media
Transfer systems on the fly, use physical and virtual appliances at will
Use professional-grade backup to secure systems, applications and data
Always stay up and running with boot fix and fail-safe system recovery
Organized and optimized storage
Next-generation partitioning functionality ensures optimal storage use. Your internal drive running low on available disk space? This dilemma often occurs when you have multiple partitions to accommodate different systems and data types. With Hard Disk Manager, you can resize partitions on the fly to maximize available storage capacity. With newly-added features, you also can undelete and merge partitions, edit and view sectors in the built-in hex editor, convert partitions into primary and logical. Easily perform a surface test to identify bad sectors of the partitions.
Paragon Recovery Media Builder
Hard Disk Manager comes with full-fledged Paragon Recovery Media Builder to correct boot problems inflicted by logical errors, hardware malfunctions, or failures. If the system becomes corrupted or compromised — malware or ransomware reasons included — you can quickly restore full operability of system and applications with minimal data loss.
Clean up media
Wipe personal data before disposing of a hard disk. Alternatively, clean unused space only with possibility to restore a deleted file. You know better than neglecting this simple rule.
Restore any file from backup
Restore data from backups, including an entire hard disk or its partitions, separate files or folders. Protect backups with a password. Import any backup to restore in WinPE.
Smart backup strategies for home use
Full range of backup and recovery solutions
Reliable recovery of individual files or entire systems
Restore of OS on new hardware platforms
Scenario-based backup jobs
Disk Backup
Save not only disk data but also system service structures
Differential Backup
Save backup storage space by archiving only what's changed since the last full sector-based image
Incremental Backup
Back up modified data along with a full sector-based archive
Flexible Restore (in WinPE)
Restore an entire disk, separate partitions, or only the files you need from previous backup images
Recovery Media
Create a bootable USB Flash drive, CD, or DVD to recover your PC on demand
Easy Recalibration
Restore contents of a 512-byte hard disk to a 4K hard disk with no additional input from your side
Release Names: Paragon Hard Disk Manager 17 Suite v17.4.3-P2P
Size: 138.13 MB/152.62 MB
Links: HOMEPAGE – NFO – Torrent Search
Download x64: UPLOADGiG – NiTROFLARE – RAPiDGATOR
Download x86: UPLOADGiG – NiTROFLARE – RAPiDGATOR